Welcome OLIVER and ORBIT
Our library is now running OLIVER and ORBIT a new management system that is incredibily easy to use. It can be accessed via the student portal. It will alow the students to look through our collection and manage their own resources that they borrow, return and reserve.
Welcome back to 2017 at THPS!
Independent Inquiry Projects 2016
At the end of last year the Stage 3 cohort created their own inquiry projects about laws of the past that have shaped and changed Australia. They looked at famous figures such as Joseph Banks and created their own questions for research based on a selection of laws and mandates sent by the government of the commonwealth long ago. Students studied the Deportation Scheme, Assisted Passage Schemes and Protection of Aboriginal Schemes of the early years of Australian Settlement.
The library is a hub of activity with new titles just arriving to start off the New Year.
Look out for these titles…
Hilariously funny and capture the love of reading for all types of students with its quirky writing and easy to follow format.
School Scholastic due: 14th February – Order has been placed expect delivery Week 6 🙂
Multicultural Speaking Competition
Calling future leaders and shapers of future Australia! The NSW Arts Unit is holding the Multi cultural speaking competition. The competition aims at getting students to investigate diversity in our nation and what we need to do for it to be successful in the future.
Students have been given information about this competition and it is for those who would like to enter.
Selection will take place in Week 5 (Monday the 19th till the 24th February) during class library sessions.
The NSW arts unit is offering all those students who are passionate about the future of our country and its diversity to speak about their perspectives, hopes and dreams.
How does the competition run?
representatives for each division (Stage 2 and 3) of the Multicultural Perspectives Public Speaking Competition are selected. This initial round will be completed in the library during class visit schedules in Week 5 this term! – so get writing!
Once selected the arts unit will advise all contestants of the date and venue of their local final which will be held in the last four weeks of term 2. The winners of local finals will proceed to one of 8 regional finals which will be held in August. Regional winners will proceed to the state final. The Years 3&4 state final will be held at the NSW Teachers Federation Conference Centre on Friday 3 November, and the Years 5&6 state final will be held at the Eugene Goossens Hall, ABC Centre on Friday 17 November. All schools are welcome to attend the state finals.
What are the rules of the competition?
Contestants are not allowed to use any props or external aids such as Powerpoint presentations during their speeches. They are encouraged to speak from palm cards and present from a stage without the use of a lectern or microphone. Finally, just a reminder that the prepared speech must have multicultural content to be successful
You will be asked to prepare a speech and also an impromptu speech as well on the day!
What are the prizes?
All contestants involved in the competition will receive a certificate acknowledging their participation. Certificates of congratulations will then be awarded to all local and regional winners. State finalists will receive a silver medallion, and the state winners in each division will receive a gold medallion and a perpetual trophy.
For more information come and speak to Mrs Derricott ASAP
| | | | |
| --- | --- | --- | --- |
| Division / Speech | Warning Bell | Speaking time (2 bells) | Continuous Bell |
| Years 3&4 Prepared Speech | 2 minutes | 3 minutes | 4 minutes |
| Years 3&4 Impromptu Speech | 30 seconds | 1 minute | 1 ½ minutes |
| Years 5&6 Prepared Speech | 3 minutes | 4 minutes | 5 minutes |
| Years 5&6 Impromptu Speech | 1 ½ minutes | 2 minutes | 2 ½ minutes |
| | |
| --- | --- |
| 2017 Years 3&4 Topics | 2017 Years 5&6 Topics |
| The same but different | Sport and multiculturalism |
| Every family has a story | One Nation? |
| Kids can make a difference | Advance Australia Fair |
| "Boo" to racism in sport | What's in a name? |
| Refugees | Racism online |
| Racism – it stops with me | Welcome to Australia |
| The Australian Flag | When does a migrant become an Australian? |
| Multiculturalism in the media | Breaking down barriers |
| What makes a community? | Words can hurt |
| Harmony Day | Multiculturalism at school |
For more information please come and speak to Mrs Derricott.
February 14th
The lunar new year welcomes in the Year of the Monkey!
The lunar new year is an important time of year for the many Asia countries. It is a time to spend with family and to look forward for a prosperous year guided by animal zodiac signs.
Chinese Horoscope for Monkey
Chinese horoscope for Monkey image The 2016 will be the year of Red Fire Monkey. Here you could read complete Chinese Horoscope 2016 for your zodiac sign and find out what the 2016 has in store for you. Remember not to celebrate the Year of the Monkey until the 9 February 2016 when the 2016 Chinese New Year of the Red Fire Monkey is actually starting.
The Chinese horoscope for Monkey shows us that the Monkey is the traveller of all signs. They are able to do the seemingly impossible, and the only thing more impressive than their intelligence is their uniqueness. While they are able to accomplish most anything they want, they are not prone to sharing their riches with others.
Chinese Horoscope for Monkey – The Strengths of the Monkey
There is no one who can motivate people quite like the Chinese horoscope year of the Monkey can. They are willing to invent and improvise whatever is needed to get a task done – even if that task is getting someone on their side. Because of these characteristics, they often become personal trainers, teachers, and other professionals.
The Chinese horoscope year of the Monkey is a person who surpasses being intelligent and is often a genius. They are extremely clever and are always open to new ideas. In fact, they're often referred to as the great innovator, since they're able to come up with not only new ideas but ways to improve on the ideas of others. What's more, they come up with these ideas at the drop of a hat. They're very quick-witted and can think on their feet with no problem.
No matter how difficult a problem may seem, the Chinese horoscope for Monkey will find a way to make it work. They learn very quickly and they can adapt to their new knowledge. When a problem has many facets, they will break it down into small parts and figure out how to make it work as a whole. Truly, there isn't a problem that's too large for the Monkey to solve or too complicated for them to make complete sense of.
The Chinese horoscope for Monkey folks are incredibly social and typically have lots of friends. They get along with people of all walks of life, and they have the amazing ability to get everyone to see their point of view and to be on their side. They're great at showing people new ways to see things – of course they do so in order for others to see their point of view.
One thing that's interesting about the Chinese horoscope for Monkey is that these people often seem docile at first glance. However, they are always full of confidence and they know just what they want. They are not grand-standers who feel the need to showcase their intelligence or their plans. They prefer to let everyone notice on their own. Because of this, it's common for the Monkey's skills to take others by surprise.
http://horoscope-for.com/monkey.html
Welcome back for another year of learning through literacy. Check out the exciting new series books that have just arrived in our library!
– Lemony Snicket and a Series of Unfortunate events
Weirdo Series – Ahn D0
The complete Maze Runner series
The complete Once series
Chinese Horoscope for Sheep – The Strengths of the Sheep
When it comes to kind creatures, the Chinese horoscope year of the Sheep is the kindest of them all. They are true Good Samaritans who act only out of the goodness of their own heart. They are always sincere and when a Sheep has something to say you know they mean it. They can be quite righteous because they believe so deeply in their own ideals.
The Chinese horoscope year of the Sheep is unlikely to rock the boat. In fact, they have excellent manners and are as gentle as can be. When they need to bring criticism to someone, they do it in the nicest way possible. They are ever compassionate and totally understand how to empathize with people. When someone is having a hard time, there is no better listener and understander than the Chinese horoscope for Sheep.
http://horoscope-for.com/sheep.html
Horoscope.com (retrieved 11/3/15) http://horoscope-for.com/sheep.html
Welcome back for another year of learning and fun in our school library!
This term we have been busy stocking the shelves with brand new, beautiful non fiction texts that have been a big hit!
If you like science, animals, world cultures, history, ancient people and civilizations….come and join us in the library at recess!
The library will be open every day with borrowing at recess every MONDAY and WEDNESDAY.
Come on in to escape the heat of the day or to warm up in winter:)
Take a look at the wonderful work the students at THPS have been doing in our library as part of their Wearable Art Research Tasks. The student body have all been researching a different culture as part of their library program and have been selecting their own pieces of wearable art to recreate and gather information on.
The library has been extremely busy, even at lunchtime full of creative people finishing off their designs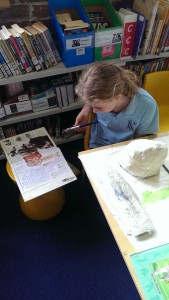 That's right! The library is replenishing it's supply of quality fiction and non fiction reads with amazing and exciting book sets and series!
We have recently purchased the excellent titles below:
Non fiction: Tourqe series, Macmillian library, Australian Animals series and Pilot books are entering the library!
Excellent balance of informative writing presented in a way that junior to senior students can appreciate. They have the most amazing photography and diagrams as well!

Excellent fiction series books include:
Tom Gates, The Last Thirteen, Pearlie the fairy, Don't look now!, The 52 Storey Treehouse series, Weirdo, Lemony Snicket series, Infinity Ring series, Geronimo Stilton's, The Maze Runner, The Hunger Games, Narnia and many many more…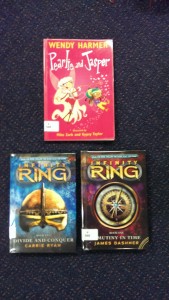 Yes, the library has been extremely bust this term as Stage 1, 2 and 3 have been busy with their investigations of ancient civilisations, celebrations and diverse peoples of the world.
Kindergarten classes are investigating the Asian legends of dragons and the real life Komodo Dragon, scary stuff!, as part of their monsters unit.
Stage 1 through to 3 have been busy looking at ancient poeples and how cultures from the past have shaped the celebrations and civilisations of today.
Stage 1 have been investigating Ancient Egypt and the Aztec culture. The stduents are creating information reports and paper mache necklaces and head dresses to model based on adornments worn by the Emperors and important figures of these times.
Stage 2 and 3 have had the choice as to what country and civilsation they would like to investigate. We have range of reports being written and amazing wearable art creations being prepared for cultures from Asia, Africa, South American and the Pacific!
These will be displayed and modelled by the students in the final weeks of school for other classes – they are looking great!
Remember library will be open every lunch time for students to come in and work on their creationsa and research reports – so many stduents have already been in over the last few weeks, putting the extra effort in.Wwell done to all those who have they are really coming along!
That's right! The amazing THPS P&C are hosting a very spook-tacular Halloween Fete at school this Friday the 31st of October! The frights begin at 3pm and go until 7pm (enough time for trick and treating after!)
$ 15 unlimited wrist bands are on sale every morning!
Come along and support the school – A very special guest will even be appearing in the dunk tank…I wonder who this could be!
Junior and Senior Choir – Please regularly check the Choir page for updated song MP3's for our Carols, Presentation night and CEP performance! Remember to bring in your attendance notes please:)
Go to the Cluster choir page for song MP3 and word pages for or cluster choir performance in Week 8!
Keep practising Team!